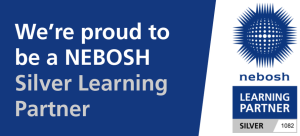 The NEBOSH Certificate in Fire Safety is a globally relevant fire safety qualification that you can complete in just one week. Through its focused syllabus, you can learn and develop fire safety skills that can be used in workplaces anywhere in the world. This qualification can help you protect people, property, and ultimately your business from the harm a fire can cause.
Who is this qualification for?
The NEBOSH Certificate in Fire Safety is ideal for:
Those responsible for fire safety in low to medium risk workplaces
Health and Safety managers
Facilities Managers
Health and safety representatives within businesses.
This relevant and respected fire safety qualification will help you to:
Gain a solid technical foundation to build on through practical application and experience
Positively influence fire safety behaviors and improve fire safety culture
Learn fire safety techniques that are based on global best practice
Provide valuable in-house fire safety expertise for your workplace
Advance your career by gaining specialist fire safety knowledge
Avoid the damaging and sometimes catastrophic losses that result from fire.
Course Details:
This focused qualification helps you learn and develop fire safety skills that can be applied in workplaces anywhere in the world.
On completion of the NEBOSH Certificate in Fire Safety, you will have the knowledge and skills to:
Understand fire and explosion protection and prevention principles
Carry out an effective fire risk assessment in a low to medium-risk workplace.
Download the NEBOSH Syllabus Guide for Learners: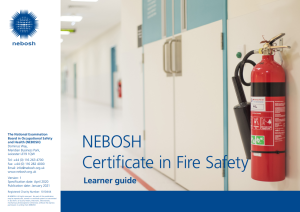 Course Duration:
CCAS Ltd run open courses of the NEBOSH Certificate in Fire Safety at our approved venue in Ipswich over a 5 day period, For this qualification, you should plan your study around a minimum of 28 taught hours and approximately 20 hours of private study and background reading.
Examination:
This qualification has a two-step assessment process which consists of:
An open book examination: you will be able to complete this at home or in another safe and suitable location where you can concentrate. You will be presented with a scenario that describes a realistic workplace and situation. You will then be asked to carry out a series of tasks using evidence presented in the scenario as well as the underpinning knowledge you have gained through your studies and revision.
You will have 24 hours to complete and submit your paper – though you should be able to complete it in 4-5 hours.
A practical fire risk assessment: the fire risk assessment has been developed around fire risk assessment standards such as the Home Office fire guidance and PAS79-1:2020.
The time needed to complete the fire risk assessment is not restricted. We do, however, NEBOSH recommend that you take around three hours to complete all four parts of the assessment., this will allow you to show your understanding of the assessment requirements and complete a good quality fire risk assessment. 
Both assessments will be marked by an external examiner appointed by NEBOSH. These examiners are chosen for their experience and expertise to ensure that learners are assessed by the very best, industry professionals.
Here are some useful resources, available for direct download to prepare you for your examination:
Entry Requirements 
There are no entry requirements for this qualification. It is important that learners have a suitable standard of English language in order to understand and articulate the concepts contained in the syllabus. NEBOSH recommends that learners undertaking this qualification should reach a minimum standard of English equivalent to an International English Language Testing System (IELTS) score of 6.0 or higher in IELTS tests.
Registration for your examination
Once CCAS Ltd has registered you to a NEBOSH Certificate in Fire Safety examination, NEBOSH will send you a Confirmation of Registration email that includes your learner number, and important information relating to your examination. Please ensure that you check your name is spelt correctly and let your Learning Partner and NEBOSH know if any changes are required. If you have not received this email please remember to check your spam folders.
Login details 
Following receipt of your Confirmation of Registration email, NEBOSH will send you a further email containing your Username and Password for the NEBOSH online examination platform. If you have not received this email please remember to check your spam folders.
Practical Fire Risk Assessment Unit
CCAS Ltd will provide you with information on submission dates for the Unit FSC2 fire risk assessment unit.  
Course Prices
The NEBOSH Certificate in Fire Safety course cost, inclusive of all registrations, examinations, and publications is £895.00 plus vat per delegate.